Guest blog from Daniel Turner, Co-Founder & Director at ANIMONDIAL.
Creating a sustainability plan can be a daunting prospect. With so many 'sustainability' measures to consider, it is easy to feel overwhelmed. From ending poverty and single-use plastics, to managing energy consumption and animal interactions, or halting biodiversity loss and carbon emissions, the expectation on tourism businesses to understand and adopt measures to protect 'people and planet' can often result in gridlock.
How to break The Gridlock
The UN Sustainable Development Goals (SDGs) are a good place to start, in that they provide clarity on the outputs required to minimise economic, social and environmental risk. However, with most resources displaying the SDGs in numerical order, there is a tendency to select individual Goals without considering their context or recognising the 'trade-offs' between them.
The Stockholm Resilience Centre, on the other hand, presents the SDGs as a tiered 'wedding cake', displayed below. This helpfully illustrates how the economic goals are reliant on the fulfilment of the social goals, which are in turn dependent on the environmental, or biosphere goals (SDGs 6, 13, 14 & 15). This not only demonstrates our reliance on biodiversity and nature for our wellbeing and prosperity but highlights the reasons we must protect it.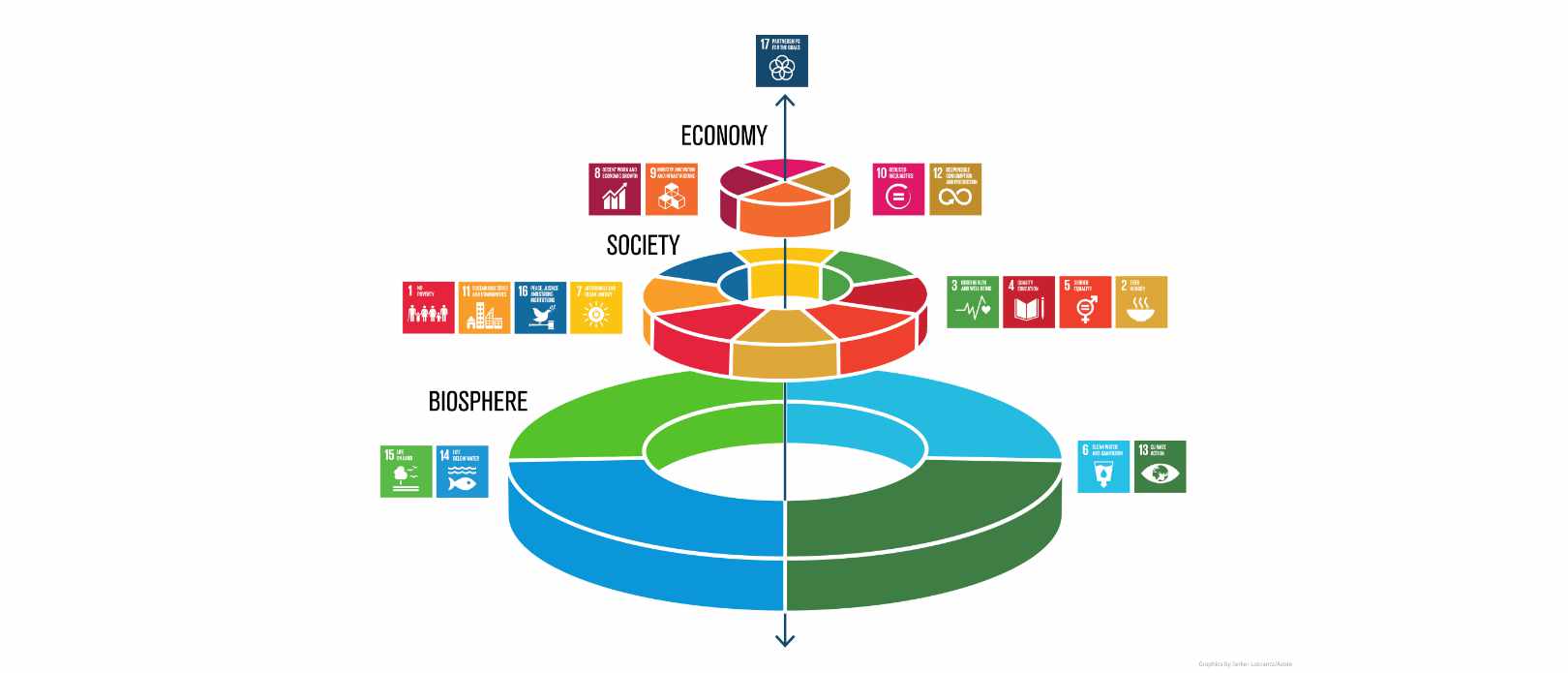 One challenge of the SDGs is that they don't help to define which targets are most relevant for your business and its operational impacts. All too often, we approach sustainability through generic, mainstream actions, rather than considering sector-specific impacts alongside our individual business' sustainability strategy and which actions are most relevant to achieving it.
Sector-specific guidance
Sector-specific guidance provides a clearer understanding of where a business-type has the greatest impact. For instance, the World Travel & Tourism Council's Nature Positive Travel & Tourism report provides an overall industry perspective, indicating how travel and tourism is both dependent on and impacts nature, together with more specific advice for each sector. The Sustainable Hospitality Alliance's Pathway to Net Positive Hospitality advises hotels and hospitality businesses, specifically, how to mitigate their impacts on nature – from freshwater usage and food sourcing to GHG emissions and waste disposal.
The more your sustainability planning focuses on sector-specific and individual business operations, and quantifiable impact, the easier it will be to prioritise, and the more effective your actions will be.
Act for Nature
What is clear from the SDG 'wedding cake' model is that businesses must prioritise identifying their dependencies and impacts on nature. Fundamentally, nature provides the resources on which tourism, and the communities tourism operates in, all rely, including our food, water, air, and energy. In fact, most of Hospitality's goods and services rely on nature. Nature can also be harnessed to create solutions to the challenges set out in the SDGs such as preventing disease, reducing carbon emissions, or providing the ability to adapt to climate change – solutions that are positive for social, economic, governance and environmental outcomes. The threat of nature loss is therefore a threat to business, our economies and societies. Preserving and enhancing nature is, after all, one of the underlying principles of sustainability.
To address this, we need to think about which issues are most relevant to our operations and supply chain, and what actions are needed to address them. This should be the starting point for your sustainability strategy, it is the focus of the Alliance's Pathway to Net Positive Hospitality, and it is exactly the starting point of Nature Positive Tourism.
Embracing Nature Positive Tourism
Nature conservation must be a priority for all businesses, no matter the sector. A Nature Positive approach ensures each business not only identifies and mitigates its specific negative impacts but seeks opportunities to restore and enhance biodiversity. While there will be common themes between businesses, such as reducing plastic use or avoiding deforestation, there will be differences in the range of identified impacts and their severity, and what "Regenerative" solutions are available.
We now understand that it is not enough just to consider how we use natural resources; all business efforts must ensure an overall Net Positive impact by conserving and regenerating nature. This can be effectively delivered by understanding the nature around you, investing in nature conservation in your destinations, and seeking opportunities to support and inspire governments, business, and society to help transform humanity's relationship with the natural world, to become a "Guardian of Nature".
Understand travel & tourism's dependencies and impacts on nature
Assess your business dependencies & impacts on biodiversity and nature
Define your sustainability or Nature Positive plan
Collaborate through Nature Positive partnerships in your destinations
Reduce your negative impacts on nature and identify opportunities to RESTORE biodiversity
Monitor and Report on the effectiveness of your Nature Positive approach
Communicate about the Nature Positive work you are doing!
Learn more: