Growing up in Puthalama, on the north-west coast of Sri Lanka, Kaveesha saw first-hand the impact of tourism on the town and the opportunities within hospitality employment. Whilst his family background is in farming, he set his sights on forging his own path, seeing the world and interacting with lots of different people.  
Although he had no previous hospitality experience, Sri Lankan NGO Voice Area Federation connected him to the TUI Academy (initiated by the TUI Care Foundation). The training programme is run in partnership with Aitken Spence and the Sustainable Hospitality Alliance, to provide both classroom learning and practical experience. Implementing the Alliance's accessible curriculum, the course enables trainees to develop core, transferrable skills before gaining real-life experience within a 5-star hotel.  
After Voice Area Foundation helped organise travel, Kaveesha set off on the 6.5-hour journey across the country to begin the pursuit of his dreams. As he hadn't experienced work in a hotel before, he threw himself into learning about and trialling the different roles. During the classroom training, he realised that he particularly enjoyed food and beverage service, as it enabled him to engage with people, polish his language and develop his confidence in conversing with guests. 
After joining the programme, he interacted with guests and built working relationships with colleagues. This significantly improved his communication skills and confidence. 
"I very much enjoyed meeting new people, building friendships and associating with colleagues." – Kaveesha 
After 3-months of practical training at the Aitken Spence, Turyaa Kalutara hotel, both the team and Kaveesha himself could see what an improvement he had made. 
"After taking part in the training programme, I noticed a drastic development in myself. In the initial months I was nervous about talking to guests, but now I feel very confident. I learned that I have a 'never give up' attitude and am very capable of tending to guests needs, even during the busiest times. This was recognised by my supervisors, which I am very proud of." – Kaveesha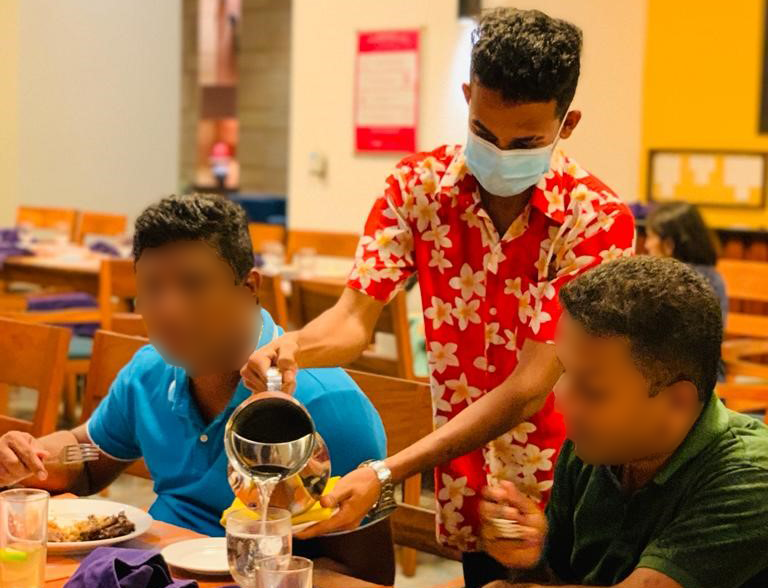 His supervisors have been very happy with his performance and the management team decided to provide a further year of on-the-job training, increasing his salary and paying a service charge.  
"Kaveesha came to us straight from Ahungalla hotel school and quickly became one of our most valuable team member. He distinguished him self as a fast learner, capable worker, and brilliant young person. He is honest, dependable, and incredibly hard working. Kaveesha as a truly valuable asset to our team and always think positively." – Shyamalee Wijethilake, Food & Beverage Manager, Turyaa Kalutara
In April 2022, after completing the additional training, he received a job offer from the hotel and is now responsible for tending to guests needs, particularly in relation to food and beverage service, as a full time Steward.
"I feel very happy to work in guest service and have accommodation and meals. I am able to support my family at home and then save much of my salary for the future." – Kaveesha 
Kaveesha now plans to continue working at Turyaa Kalutara, before travelling to a new country to develop his skills further. His courage in establishing his own career and dedicating himself to training has been an inspiration to his younger brother, who is now looking to join the TUI Academy. 
"In the future I aim to work abroad to gain experience and continue earning money. I would like to go to the Middle East. I then hope to return to Sri Lanka to become a supervisor at a hotel." – Kaveesha