Seeking a way to offset this, IHG Hotels & Resorts' InterContinental Bora Bora has introduced innovative technology to its operations, which also offers the dual benefit of reducing its carbon footprint.
Instead of using expensive, imported fuel oil to power its air conditioning units, the property uses seawater from the deep ocean as an alternative source of cooling.
Christophe Maudet, Executive Assistant Manager in charge of Rooms Division, explains:
"We were the first hotel in the world to implement this system […] we saw a return on investment after just seven years, instead of the 10 we had budgeted for, which was amazing."
So just how does the technology work? 
It's a relatively simple idea, which makes use of the surrounding natural environment and required some ingenious engineering to bring to fruition.
Seawater from a depth of 3,000 feet in the surrounding ocean is pumped through a 2,400-metre pipe up to InterContinental Bora Bora. From there, the cold seawater meets a thermal exchange unit made from titanium, which effectively acts as a large radiator – transferring the cold temperature of the seawater into the freshwater circuit that is transported throughout the hotel. This circuit supplies the air conditioning units across the property's 80 villas and common areas, as well as the refrigeration units in the hotel kitchens.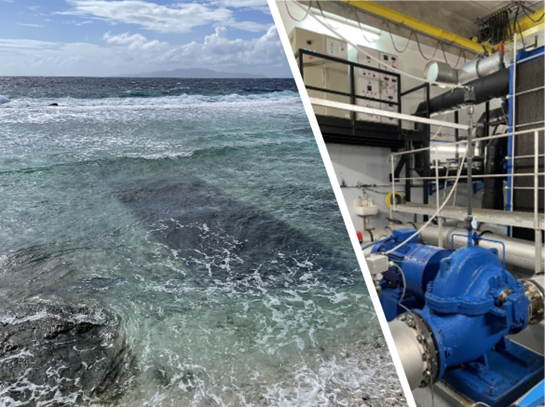 And that's not all, as the seawater is also used in the hotel spa, where it is used in re-mineralising treatments, helping to soothe and rejuvenate guests.
The benefits of installing this technology are numerous. It has led to energy savings of around 90% on the electricity that would otherwise be required to power the hotel's significant air conditioning and refrigeration needs. This equates to about 2.5 million litres less fuel oil every year – leading to a vast reduction in carbon emissions.
Since being installed in 2006 when InterContinental Bora Bora first opened, the seawater cooling system has exceeded expectations in terms of its running efficiency and has proven how sustainable development and tourism can go hand in hand to protect the local environment and save money.
The hotel's owner, Pacific Beachcomber, so liked the system that they introduced it in another property, in Tetiaroa, French Polynesia.
There are potential uses for it outside of hospitality, too – the air conditioning system of French Polynesia's main hospital has been modified to use the cooling power of seawater – leading to a 2% saving on Tahiti electricity consumption.
Seawater cooling technology could be used by other hotels located next to the ocean with major air conditioning requirements. It can save money, reduce maintenance and act as a point of interest with hotel guests – proving that the natural environment contains a vast amount of energy just waiting to be used.